Retain the Beauty and Durability of your Leather
Leather has been a popular material for making furniture since furniture was invented and for very good reason. Not only is leather a versatile and durable material, but it is also stunningly beautiful and very stylish. Those who buy leather furniture can expect a product that will last a lifetime with good care and maintenance.
By the same measure, some people may be hesitant about buying leather furniture. Leather clothing, shoes, and furniture require special care and protection if they are to retain their beauty and durability. Typically, only a professional leather cleaner should be entrusted with this important task. While it is true that only a professional cleaner has the proper skills and experience to clean and restore furniture and materials, there are plenty of things that you can do to keep your leather furniture in good condition.
Caring for Furniture Made With Leather
One of the most important tasks is conditioning your leather furniture once or twice each year depending on the amount of use it gets. Conditioning leather is an important task that preserves the fine textures and colors of your leather furniture.  It is equally important to clean up spills and liquids before they get a chance to soak into the leather and mar its innate beauty.
Here are a few other things to keep in mind when providing good care and maintenance to your leather furniture:
Never use harsh solvents, all-purpose cleaners, furniture polish, ammonia, oils, or abrasive cleaning agents when cleaning your leather furniture.
Leather should be kept away from direct sunlight. This will keep it from cracking, drying, or fading.
Before you attempt a cleaning technique or method that you are not 100% sure is perfect for your leather furniture, try it out on an inconspicuous corner first. This way if it damages the leather the small spot will not be readily noticed. Wait 24 hours to see how the leather reacts before attempting the same leather treatment on another corner.
-For the most part, soft cloth is the best thing to use for cleaning leather furniture. If you are dealing with a sticky stubborn mess, you should moisten the cloth with clean lukewarm water.
Cleaning Greasy Stains
If you have spilled something oily or greasy on your leather furniture, or a leather section of your furniture, wipe it off quickly using a dry clean cloth and allow it to stand. Depending on how much greasy or oily substance is spilled onto the leather, it should disappear within a few minutes.
In case of a bigger spill, you can sprinkle baking soda or cornstarch on the area, these powders will absorb much of the grease pulling them away from the couch. Allow the cornstarch or baking soda to sit overnight and use a vacuum to remove it. You can then use a dry cloth to buff up the area.
If the stain refuses to budge after you have exhausted all DIY techniques for removing the stain, you will probably need professional help to remove the mark while not damaging the leather.
Removing Dark Stains From Light-Colored Leather
To remove stains from dark-colored leather, you can make a paste that is one part lemon juice and one part cream of tartar. Gently rub this mixture into the affected area and allow it to sit for roughly 10 to 15 minutes, then add another layer of paste. Continue rubbing the paste on the spot until the stain disappears.
Remove any residue with a damp sponge. If you'd like, you can touch it up with a tiny amount of moisturizing soap to restore the softness of the leather.
Removing Water Stains
If your leather has become stained with water, this is a very easy thing to address. Simply moisten a soft cloth and begin rubbing the stain gently until it vanishes. Then make sure to dry the area completely to ensure that you are not left with another mark. Dry with a dry cloth, do not use hair dryers or any other type of heating element.
Removing Ink Stains
To remove an ink stain from leather you can use a moistened cotton ball, or a Q-tip dipped in rubbing alcohol, and blot the marks out using a gentle touch and circular motions. Be very careful not to make matters worse by spreading the ink all over. Some people recommend using hairspray and acetone-based nail polish remover.
Once the stain has been thoroughly removed, you can follow this up with a quick rub with a soft dry cloth and a little bit of leather conditioner.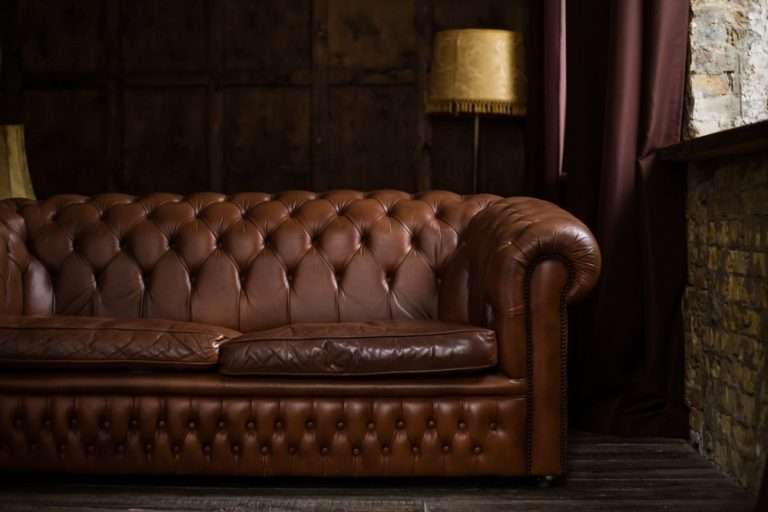 How to Condition Leather
The best way to care for leather is to love it and treat it as if it were your skin. You want to keep it smooth and supple and this can include regularly moisturizing. The good thing is that there is a wide variety of commercially produced leather cleaners available from furniture stores. All that is required is to read the application's instructions on the product you are using.
If you would like you can even make your homemade leather conditioner by combining water, baby soap, and vinegar.  Simply combine 2 cups of warm water, a splash of white vinegar, and a teaspoon of baby soap. Mix this thoroughly and apply as needed to your leather furniture.
It is important to carefully measure the amounts of leather conditioner you need. Soaking the leather through can cause more damage than good and should be avoided. Once the section being conditioned has been covered entirely, leave the conditioner for a few minutes. Then you can use a separate dry cloth to dry the leather and another to buff and polish the leather furniture to perfection.
Whether you will be using a commercial leather conditioner or making your own, it is always a good idea to test your product on an unnoticeable area of the furniture first. This way if it turns out to harm the leather you will not be left with a big ugly spot that everyone can see.
For all of your commercial cleaning needs contact the pros at Professional Choice!