Keeping Your Facility Clean and Sanitized Against COVID-19
It seems that the Coronavirus (COVID-19) will be with us for longer than anyone wanted. While there are promising vaccines, many company leaders are asking themselves what they can do to mitigate the spread of the virus.
In facing this very situation over the last 10 months we've come up with a few plans and strategies that have proven effective in the workplace. Here are 4 things we've found that work well to keep any facility clean and sanitized.
Have an outbreak plan in place
This is the most important tip of them all. You will want to have a contingency plan in place to control an outbreak should one occur. Such a plan should include who will be contacted to provide proper sanitation for your building, how you will notify the employees of the COVID-19 outbreak and a plan to return to the building once it has been properly sanitized.
The best time to return to your place of employment after an outbreak is typically three days after the place has been sanitized, however this also depends on the type of sanitation that has been performed. A few days should allow you enough time to ensure that all the surfaces have been effectively addressed and all contact points have been properly cleaned to avoid the spread of the deadly virus.
Is UV light or fogging better for sanitation?
Different people will have different opinions on this question, and many will be quite adamant in their defense of one type of sanitation method.
UV is the costliest way to ensure that the virus has been eliminated from your office and has its own downsides.  It also takes longer to perform this sanitation; the battery life of the UV machine is not very long, and this is not a suitable option for locations larger than 1000 square feet.
Then there is the fogging option. This method requires the use of a distribution machine that will spread a specially designed chemical agent across the area. An average machine can dispense up to 10 gallons of chemicals across an area as large as 50,000 square feet and complete the task in under 15 minutes.
Once the fogging has been completed, you will need a cleaning technician to go over the entire area and wipe all surfaces with a hygienic microfiber cloth to collect all residue that has settled from the fogging. As soon as the fogging has been completed, your employees can return to work within as little as 24 hours.
No matter which method you choose to work with, the task is best performed on the weekend, Saturday is the best option as your facility will be empty and there will be room to work. This also ensures that the cleaning method you choose will be done effectively and all traces of the virus will be properly eradicated.
Make dispensers touch free
Are your restrooms and kitchens equipped with soap or hand towel dispensers that must be activated by touch? Just consider the vast amounts of germs that are being passed from person to person each time the lever or button is activated. This can all be avoided by using a dispenser that doesn't have to be touched to be used.
These dispensers can be easily installed and are pretty cost-effective as well. You should also consider swapping out the type of paper or soap being used. This adjustment to your workspace will go a long way in controlling the spread of contagion. Your janitorial or maintenance staff should have no problem making the switch from older apparatus to newer and more hygienic options.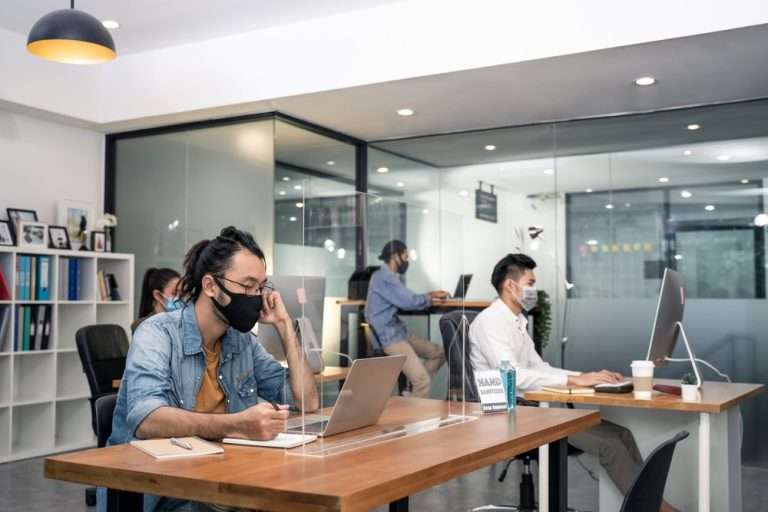 Redesign your office space
The advent of the coronavirus outbreak has caused many people to rethink their plan for office space to avoid the contagion that is increased by working in close proximity. This can be difficult in smaller office spaces, but there are options. For one, you could consider an alternating schedule for working at the office. Perhaps you can divide your workforce into a number of people that come to work on Monday to Wednesday and another group that comes Thursdays and Fridays, or however best suits your plan for operations.
Those that are not working at the office on any given day can work from home, which is probably something many will enjoy, and you may even see an increase in productivity. There are also many commercial furniture companies that provide special plans and equipment that can support an open office format that will reduce the chances of contagion when your employees return home from work.
In conclusion, the advent of the Coronavirus has changed the way humans will work and operate now and in the future. One of the most important changes will be the increased need for sanitation and janitorial services that will meet the demands of customers. But remember that all of this is a plan in progress, and you will need to make adjustments as needed. The virus is quite unpredictable and there is a good chance that no matter the plans formulated to face the crisis; they will have to be changed at some point.