A Break Room That Rejuvenates
Every employer wants to offer its employees a break room that rejuvenates. A break room is meant to be a sanctuary for employees to eat, enjoy a cup of Joe, and relax.
Believe it or not, break rooms can make or "break" a business. A business relies on its employees. Employees need some time for themselves and a place they can voice frustrations, get quiet time in, and catch their breath. This is exactly the space a break room can be for employees. When organized properly, it's the perfect place for employees to spend time enjoying their lunch, discuss after-work plans with coworkers, and more. However, because they are designed to cater to all employees, they can get very dirty – very quickly. They are all-purpose spaces that all employees can enjoy. As a result, you need to pay special attention to keeping it clean and organized.
That breakfast bagel can turn into jam on the floor. That team reward of pizza night can grease up the floors and create a hazard. There's only so much covering up you can do. This is where a professional cleaning crew comes into play.
At Professional Choice, we've seen pretty much everything. Because of this, you can count on our professional cleaners to know what to do and what not to do when it comes to keeping office break rooms clean and organized. Below, we'll be asking them pertinent questions so you can implement better cleaning practices in your office.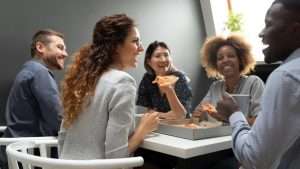 How Do You Clean the Sofas?
Pretty much every sofa we run into in the office break room has the same issue, crumbs everywhere. It doesn't matter how careful your team members are when they eat, there will always be crumbs that fall through the cracks. If you have fabric sofas in your breakroom, you can count on the fabric getting sticky. Likewise, you can expect some spills to start to show up and leave stains. This is how we handle sofa cleaning in the breakroom.
Remove The Cushions
Firstly, we do a surface cleaning. We go through the sofa and brush off any of the loose debris and crumbs. We remove all of the sofa cushions at this point and shake them around. This gets rid of a lot of the easy-to-remove crumbs. Unfortunately, the crumbs usually get stuck in between the frame and in the crevices. Because of this, we take a handheld vacuum and run it through the sofa. We focus on getting the corners and in between the nooks and crannies of the sofa at this point. If there is any sort of staining, we reach for some baking soda. To do this, you simply leave the baking soda on the surface of the stain and allow it to set in. Once 30 minutes or so have passed, you can use the vacuum cleaner to get rid of the remaining baking soda.
Deep Stains
If your sofa has a lot of deep stains, it's going to take some more legwork. These stains can be much more difficult to remove. Depending on the fabric of the sofa, an all-natural vinegar, and soap-based solution could prove to be effective. This is a good way to start the process of stain removal. However, if the stain is too big to tackle on your own, it could be time to call in the reinforcements. A professional company will be much better suited to handle it.
Cleaning Wooden Furniture
A lot of offices are buying and using wooden furniture for their break rooms. This trend brings its unique challenges. While wood can be an aesthetically appealing material choice, it's going to take a beating from the kind of usage that a breakroom gets. With 8 or more people constantly eating with one another, you can expect the wooden furniture to go through a lot. Not only will there be spills, but there will be grease and more. Unfortunately, cleaning wooden furniture isn't as easy as cleaning plastic or metal furniture. After all, the material is porous. You cannot simply wipe it down. Anything that's spilled directly on the wood has a chance to set. This makes it a tricky material to keep clean.
To keep the wood from getting damaged by sticky or greasy food, you'll want to clean the wood as soon as the spill occurs. First, you should look to wipe off the wood and clear the debris. Then, you'll want to apply a 50/50 mix of warm water and white vinegar. Try not to use anything that is too rough, or you could damage the surface. Ideally, you want to use a thick yet soft sponge. The idea is to blot with the sponge. Once you've blotted it enough, you'll want to wipe it clean with a soft rag. Be sure to rinse all of the vinegar off as it's an acid. The good thing is, that you will have disinfected the surface because vinegar is antibacterial.
Carpets
While you may want to opt for hardwood floors because of the damage that can be done to carpets, it's likely not the way to go. While it can be easier to clean at times, carpet flooring is generally more comfortable and better for office environments. Not only is it more comfortable on a floor surface, but it can add insulation.
With proper care, you can maintain a carpet just as well as a hardwood floor. For the light spills, reach for baking soda. Do the same thing. Simply sprinkle some baking soda on the area where the spill occurred and give it 30 minutes or so. Afterwards, you'll want to get rid of it with a vacuum cleaner.
Unfortunately, baking soda isn't always going to effectively remove the stain. In these cases, you will want to call on a professional carpet cleaning service. We offer professional carpet cleaning with the best-in-class equipment to ensure that your carpets are restored to like-new condition.
Clean Everything
You don't want to forget the other stuff. A lot of office rooms have a lot of shared space. Whether you have your break room stocked with ping pong tables or foosball tables, you'll have other furniture and areas that need cleaning.
All of these things can get messy and gather dust. You'll also want to carefully clean all of the commonly touched surface areas like light switches, TV remotes, and more. Don't forget the details when you are cleaning the office breakroom because you'll miss a lot.
Get Professional Office Cleaners
Keeping office break rooms clean can be a full-time job by itself. When you call on Professional Choice, you can get everything handled for you efficiently and effectively. You will have an experienced team of cleaners at your office who know exactly what to do. Contact us and you can schedule your next office break cleaning to boost the productivity and satisfaction of your entire workforce.