Healthy and Clean
The pandemic made it necessary for many people to work from home for at least a couple of years. Just as people were getting accustomed to it, many are shifting back to work in their shared offices. A lot of people actually prefer to go back to work on site, but there are challenges. An office space that is shared is more conducive to the spreading of germs. So, workers must be mindful to practice good hygiene and to keep their workspace as clean as they can. At least this would lower the risk of spreading germs.
Everyone who shares a work environment is accountable for keeping the space clean. This responsibility is shared especially if a number of people work together in a single environment. Only when everyone in the office takes this responsibility seriously can there be a reduction of infections like colds and flus.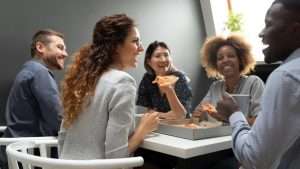 Here are some suggestions on how to keep a shared office space healthy and clean.
Disinfect your work environment regularly
Before the pandemic, most people just wiped down their desks and computer keyboards every now and then. However, currently, this is not enough. What is required now is disinfecting everything by wiping all surfaces with disinfecting wipes. These areas include your computer equipment and all peripherals, paper trays, and all work surfaces that are touched. This should be done each morning.
Avoid sharing stationery supplies
Things like pens, erasers, rulers, and other stationery items should not be shared. These high-touch items harbor germs that can be easily spread, so sharing these must stop. If feasible, you should keep your own set of office supplies in a separate bag or lock them up in your desk drawer to discourage others from using them. Get into the habit of sanitizing them before you use them.
Be mindful of where you place your purse or personal bag
The bottom of your bag or purse can pick up germs from wherever it is placed. Public areas like transit vehicles or the floor are breeding grounds for germs. Therefore, it is advisable that you always keep your bag with you when you are out and about. Do not just place it anywhere. When you are at home or at work, place your bag on a surface that has been sanitized.
Sanitize your mobile phone everyday: You use your cell phone everyday, and it is an integral part of your job when you work remotely. Because it is high-use, it attracts a lot of germs. So, you need to sanitize your phone frequently.
Clean your high-use supplies everyday
Things that you use all day long, such as your laptop, pens, and notebooks, can accumulate germs quickly.  Before you leave work, spend a few minutes wiping these down so they are always clean when you need to use them.
Have your office professionally cleaned: Although you do your part in cleaning your office area, there are areas that might not get a lot of attention. Consider hiring a professional cleaning service to do a thorough cleaning job. They will clean very inch of your office to make the place germ-free.
Contact us today, and see how we are the answer to all of your cleaning needs.