Keep Your Facility Clean
A neat and properly organized facility ultimately determines how visitor perceive your business. Although it can be a demanding task, it is important to keep your facility clean. Having a facility cleaning checklist not only helps you to maintain your facility but also allows you to be more efficient by scheduling activities in regard to that.
General tips that you can help you in facility management include:
Using floor mats for areas with high traffic: Dirt tends to accumulate much faster in areas such as under office desks and door fronts therefore making the use of mats a necessity in such areas.
Clean up any spills that may occur to avoid staining your facility floor and furniture. Having cleaning supplies well stocked at all times allows you to act on time.
Hire a professional to perform deep cleaning services even if you do clean your office often. With their professional equipment, a cleaning company is able to clean hard to reach areas such as windows and facility exterior.
Make maintaining the facility a collective effort for your employees. Ensure that trash is emptied and common rooms are cleaned daily. Having a cleaning roster helps in ensuring your office is spotless and fresh through the day.
Examine the facility to determine areas that need repair for example loose tiles, broken glass and caulking.
For general upkeep, we have curated this facility cleaning checklist template below to assist you in having seamless cleaning process:
Office Space
This includes office cubicles and the furniture within your facility.
Perform dusting in all areas including desks, printers, worktops and cabinets.
Sanitize the desks and other items likely to harbor bacteria for example keyboards, staplers and phones.
Recycle papers and empty trash cans. Clean the trash cans on the outside and properly reline them.
Wipe and sanitize the chairs.
Dust all frames and windows sills.
Clean glass doors, windows and wipe wall hangings regularly.
De-clutter personal space.
Vacuum the floor and under the office furniture too.
Office Reception
This is the space where your guests and clients wait to be served. It helps to maintain top-notch cleanliness for a great first impression. Here is a list of what to do to clean the waiting area"
Have your reception desk clean and well organized with all the stationery placed in appropriate holders.
Dust the surfaces daily.
Keep the trash can empty and clean
Have appropriate books or magazines to entertain your visitors as they wait.
Ensure the company seal and any other form of decor is clean.
Disinfect common areas like seats, call buttons etc.
Ensure that the carpet is vacuumed and deep cleaned at least quarterly.
Keep the office floor and walls polished.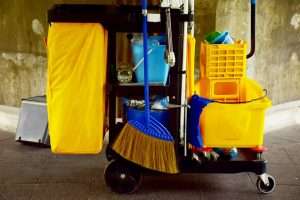 Bathrooms and Toilets
These are some of the most sensitive areas of your facility. Maintaining cleanliness in them ensures that you are creating a healthy and safe environment in your facility: Here is how you can achieve that:
Keep the toilets clean and disinfected. Be sure to clean the toilet seat covers and toilet roll holders.
Other areas that need to be cleaned and disinfected include the bathroom mirrors and sinks.
Ensure there is no caulking in any of the joints.
Repair any loose tiles.
Ensure that hand washing soaps and disinfectants are available at all times.
Ensure that the toilet drain is always in working order.
Mop the toilet floor and dry it to avoid accidental slipping.
Kitchen and Break Rooms
A lot of activities happen in these rooms and they are therefore prone to getting dirty much faster. You can keep them clean by doing the following:
Avoid storing expired food in your premises.
Appropriately discard food wrappers and empty trash cans.
Clean the sink and ensure the worktops are not crammed with utensils.
Deep clean and sanitize the kitchen worktops.
Discard coffee grinds and other unwanted food stuffs.
Ensure appliances like coffee maker and toaster are always clean.
Keep water cups and other necessities well stocked for convenient use.
Exterior of the Facility:
This includes the office walls and the walkways. It is important to maintain a clean environment to avoid hazards that may be lurking. The following can help you ensure that your facility environment is clean and hazard free:
Remove all potential hazards like loose stones, fallen tree branches as this could trip you or your guests.
Ensure you have no debris lying in your compound for example dried leaves.
Trim overgrown hedges and cut low hanging branches.
Check if your walls and paint is chipped and perform necessary repairs.
Check if your roof is in need of maintenance and schedule an expert for repairs.
Power-wash your pavement and garage once to keep the place spotless.
Air Conditioning:
Ensure that your air conditioners and vent are in good working order by:
Examining the filters and replacing those that are worn out.
Ensuring that there is no mold and dust that has settled in the air conditioner and vents because that may contaminate your facility's air supply.
As a facility manager you must ensure that cleanliness is well maintained. This substantive checklist will act as a guide to ensuring that your establishment is always clean and fresh.
For all your commercial cleaning needs, contact us here at Professional Choice today to hire a team of professionals that will assist you in cleaning your facility.