Simplify Your Post Construction Clean Up
Whenever you think about opening a brand-new building or even while renovating a building, there is plenty of work that needs to get done before opening. The post-construction phase can be very tedious and difficult. The entire process is complicated and involves a lot of cleaning protocols along with fine-tuning.
Because there isn't an unlimited amount of time you have to get all of this done before opening, the window is small and it can be very time intensive. As a result, larger teams of cleaners will be required if you are looking to complete the job efficiently.
The different technical aspects needed for post-construction cleaning can make it extremely difficult to find the right service to hire. You want someone that has the requisite equipment and the certifications to handle the job properly. There are various certifications you need to look for when choosing one.
Here are a few of them:
WHMIS
WSIB
A minimum of 5 million insurance coverage
Certified operators
Height training certificates for all workers
Specialty Equipment:
Specialty window cleaning
HEPA vacuums
Scissor lifts
When a company doesn't have all of these qualifications or equipment, you want to avoid them. Any commercial cleaning company needs these certifications and qualifications to legally work these kinds of jobs. Therefore, you'll want to ensure they have them before hiring them for a post-construction cleaning service.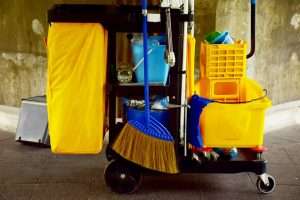 Supervision
Another major thing that you need to consider would be supervision. You want to ensure that you are looking at supervision when hiring a company. A supervisor is 100% necessary when it comes to finding the right company to hire. This is primarily because there is so little time to fully clean the property. Having good organization and communication is essential. This way, you know that it will get done before the scheduled date. All of the other trades including different things like plumbing and electrical will have to get done before anyone can clean up. If various things need to get done on-site still, the cleaners won't be able to get their job done. Otherwise, another round of clean-up would be necessary. This is only going to increase the cost to get it done. A comprehensive walk-through would need to get done with managers to ensure everything is satisfactory before the cleaners leave.
For all of your post construction cleaning needs in the GTA, contact the pros here at Professional Choice.
We have the experience, equipment and the know how that you are looking for for any size job you may encounter.