Every business office or commercial building needs to be looking its best at all times. You want to give a good first impression to your clients by showing how seamless your business operations are and why you are a reliable partner for them to work with.
But is that the kind of image that your clients get when they walk through your front door?
This is whole reason why we rely on professional cleaning firms, isn't it?
We outsource these types of services so that we can focus on our own business and leave the cleaning to them.
In some cases, your current cleaning companies' performance can fall below the required standard, making you think hard about whether hiring a new firm might be the best way to go.
A few points to consider when deciding if new cleaners are in order may include:
What is your biggest concern with your existing cleaners?
Is there a specific part of your facility that is not cleaned well? This is a concern that should be addressed to your cleaning staff and the cleaning company directly. It might be the dust on the window seals or the dirt beneath your desk. If you have new sections in your work space that are continually being overlooked by your cleaner, you might be better off finding another company that will be more attentive to the detail.
Are you generally happy with your existing cleaners?
Are you content? This may appear to be a silly question, but if you're not content with your existing cleaners, and you don't have any practical solution in mind, it might be good to look at other options.
You'll want to make sure to address all the needs that were not being dealt with from your current company, with the new prospective cleaners. By doing this, you'll make sure that you don't have a repeat of the previous problems. If your new cleaners are aware of the concerns that you have, they will be better placed to improve their services going forward.
Aside from communicating your business's particular needs, here are some questions that you may ask your new cleaning firm before you sign.
Why should I TRUST the cleaner coming to my workspace?
It's necessary to ensure that the new firm you are considering has security policies in place so you can feel at ease with the new cleaning staff. Ask their salesman if they do security checks and on their cleaning employees, if they're insured and bonded, and if they have any certifications, as well as prior education on commercial cleaning.
Are the cleaners trained?
Commercial cleaning is not the same as residential cleaning. Education in commercial cleaning helps one to be consistent and efficient when executing their tasks. This will ensure that your facility is up to the proper standards. Professional cleaning is also important to maintain proper health standards. One major factor in relation to this is eliminating the risk of cross contamination. You would not want to see your washroom wiped with the same cloth that was used to clean your kitchen counter. Your new cleaners should understand these procedures so that the facility remains safe and clean for everyone.
will my cleaner be concerned about my facility?
This is the other component of trust. As a consumer, you want to make sure your getting all these amazing services consistently and not just for the initial few months only. In that respect, you'll want professional cleaners who are seasoned, can stay focused and take pride in their work.
What is expected of me as a client?
Being open with your office cleaners or your assigned supervisor on a regular basis will ensure that you get the best services in your facility.
Who do I reach out to if there is an issue?
If there are any arising concerns, you want to ensure that you have an assigned contact to address those concerns with. Find out if your new company has an appropriate framework for dealing with problems in a timely manner.
And the major one, what are you going to clean for me?
This is a very vital question.  Your cleaner should want to know how regularly your office needs cleaning and what specifically needs to be cleaned. All the parties involved should discuss this issue openly and agree to the terms when it comes to what is required in your facility. These areas should all be recorded in writing on the contract so that there is no confusion.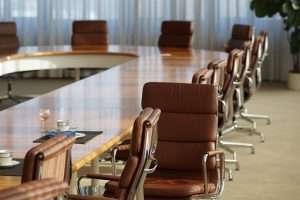 Regardless of the commercial company you settle on at the end of it all, open communication is a vital element.
You want to get your requirements addressed and ensure that your business space always looks its best.
If you are ready to make the switch to a new cleaning firm, get a no-cost quote from Professional Choice Cleaning today!